There is grace in this adventure. Though I'm not always quick to give it nor quick to note it, there is grace for us. Tonight I'm slowing down to note the gifts God has given, bringing my heart back into a grateful resting. As I count His provisions and grace upon grace I assure myself that there will be grace upon grace tomorrow also.
701) Boys giggling together, rolling around on the carpet
702) Summer Rain
703) Thunder sounding distant over the lake
704) Smell of the woods
705) Scripture just for today; strengthening words needed (Psalm 118: "He is ON MY SIDE.")
706) Children choosing treats at Trader Joe's- peanuts, sunflower seeds, cashews. . .
707) Armful of yellow packages to mail
708) Surprise! Refunds and coupons and unmarked clearance items and money back!
709) Evening meal with new friends
710) Surprise! There were still eggs in the garage refrigerator!
711) Singing Colossians with the children
712) Tangy BBQ sauce
713) Baby signs; I love watching M sign "fish" and others
714) Singing at church; a little Appalachian feel I liked
715) Books and books! Unpacking books given us last year that have been packed all this time; finding some books I planned to order and some I've been wanting to read.
716) "Mom. I love you. Oh, and I love you." (T, age 3)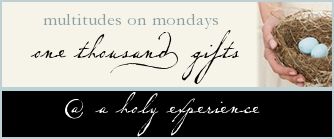 I tried to get our "annual photo" at Tamarack on our way back from IL. There were logistical issues as well as an unhappy baby and four other children who just wanted to PLAY.